Recently I've been really inspired by The Hairpin's
"What's in your bag?" series
. It's a strangely addictive series, and I always check for a new one when I have internet. I thought maybe I'd give it a go myself. So, without further ado, Ali Foley, what's in your bag?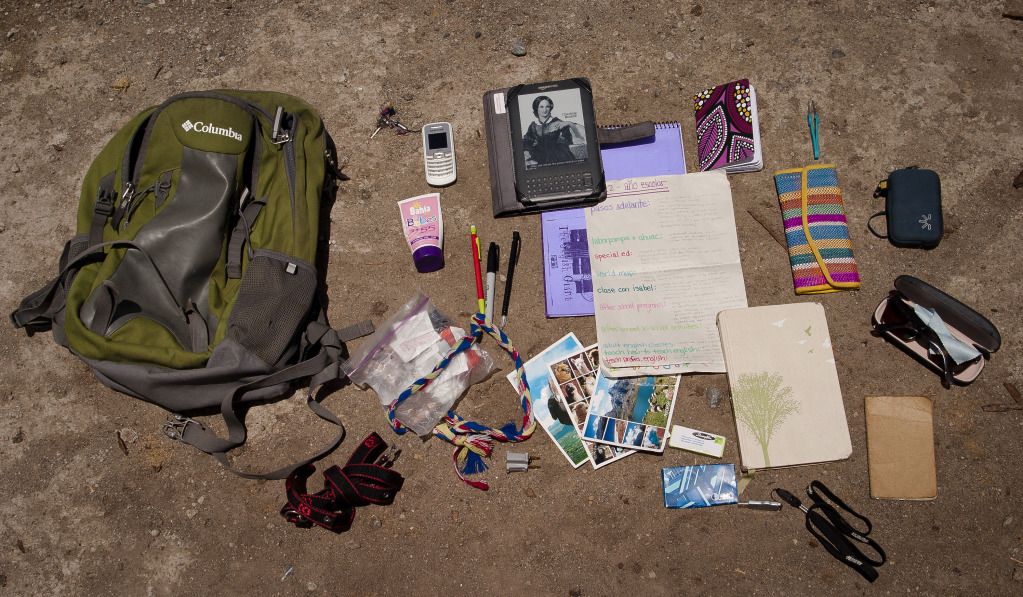 1. My Peace Corps Nokia cell phone w/ pom-pom charm and my room key. Key-cell phone combo? Oh yeah.
2. Kindle. Do not leave house without reading material. You will end up waiting in your classroom/the municipality building/the 'bus stop'/etc. bored to tears if you forget this.
3. Reading material my socia (community counterpart) lent me. It's a couple of Oscar Wilde stories in English.
4. My plan for the 2012 school year. I wrote this out while I was waiting in my classroom (see #2, I had forgotten my kindle).
5. My pretty little Quechua notebook which I won during training! I take this everywhere. [Cuadernuta Apakullaa] – impressed? Yeah?
6. Tweezers… which I haven't used lately…
7. Hand woven straw wallet bought from another volunteer in Lambayeque, Peru. His host mom makes them and they're fantastic!
8. My point and shoot camera. Always bring along as you never know what weird thing you will see or do.
9. Sunglasses. Also always bring with you. Even if you are the only person in your entire town who wears them. Sunglasses case is one of the best purchases I have made in my entire life. Worth all 6 dollars. Also, the handy microfiber cloth that comes with is great for cleaning computer of all the bugs you squished into the screen last night.
10. Agenda. Also do not leave home without. You are now a highly organized individual who even has their workouts planned out until July.
11. Well-used mini recycled-paper moleskine notebook from parents. Great for jotting down vocab/slang/doodles/lesson plans. Also great for explaining what recycled materials like paper can be turned into. Thanks mom and dad!
12. USB. Also bring everywhere. Helpful for bringing documents to printing shops and receiving music/TV shows from other volunteers.
13. Orbit gum from a care package. Again, thanks mom and dad!
14. Staples… I don't know why these have been in there for so long.
15. Postcards I've been meaning to send to friends and family for ages now. They're on their way, I swear!
16. Three-prong plug adapter. Also an essential.
17. Leash for Canela (our family dog). Caballero, another family dog and my favorite dog ever, just disappeared… my family thinks someone poisoned him (a sad common occurrence in these parts). So when Canela (our other puppy, who also is adorable) got sick this week, I didn't hesitate to bring her to the vet. I had to buy her a leash, even though she's so tiny I mostly just toted her around in my backpack (including during a meeting with a mayor- he never even noticed - ha).
18. Sweet braided headband BFFL Ryan, PCV in Ica, made me for Carnaval in Cajamarca.
19. Zip-loc filled with mini-med kit. Very handy for short trips to the city and long bus rides.
20. Mechanical pencils and Sharpie. Could not live without them.
21. Sunscreen. Also extremely important, the sun is crazy strong here. I ran out in Mancora (PCVs get sunscreen for free) so Charlotte and I had to buy this… unfortunately it gives you extreme 'white face' and I only carry it around for emergencies because its small…
A note on my backpack:
My backpack is my life. All my life I've carried a backpack, but this time its extra-true love. I take this guy everywhere. It has lots of awesome pockets and a super-protective laptop sleeve. It's a Columbia backpack that I bought on Backpacker.com which I'm obsessed with (and gives PCVs a great discount). Not trying to sell it to you, just giving credit where credit is due.
*Notice the lack of toilet paper, trash, and my DSLR. Failing to bring toilet paper everywhere I go means I'm, how they say, 'le screwed'. And I'm sure you're thinking, Ali, you're editing out all the trash and receipts you have floating around in there – actually, I was just in my capital city yesterday, where I bring all my trash, so I just dumped it all – take that. Finally, note to self, bring DSLR everywhere you go – must take more photographs and envy Pim and Lisa less.
One more thing: check out my 3-yr old host cousin's fabulous gold shoes and amazing color-coordinated outfit (peach sweater, pastel blue pants, pastel pink socks, gold shoes… get it girl!).